San Francisco Day of Civic Hacking @ SF State Jun 6 & 7, 2015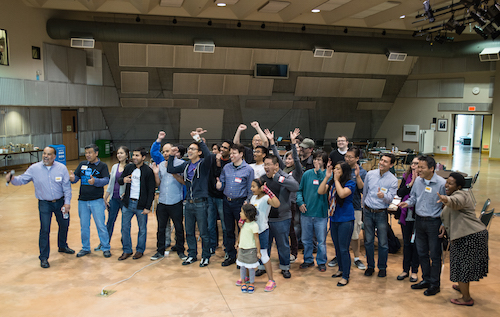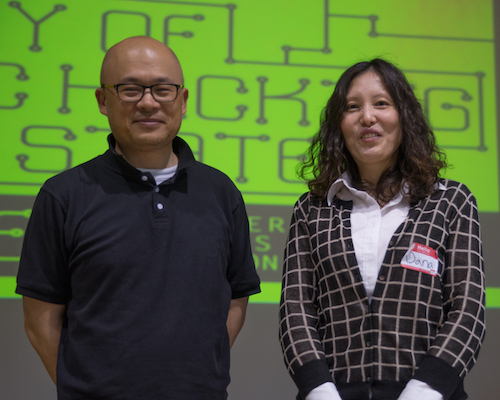 Project: Health Impacts of Climate Change - Local Air Quality Notification Service
Team: Dana Lee, Dan Park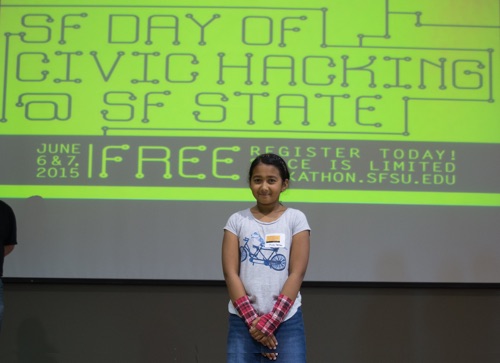 Project: Ihamster
Team: Erin, Harsha, Mira Naima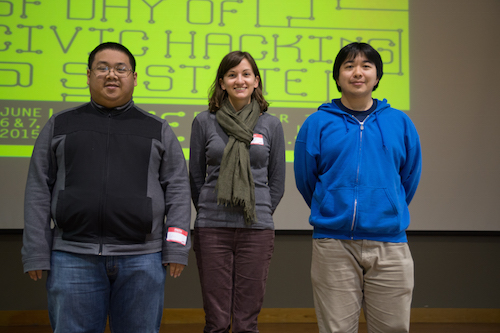 Project: Health Impacts of Climate Change: Measuring Local Changes
Team: Ted Fujimoto, Jane Huston, Tony Trieu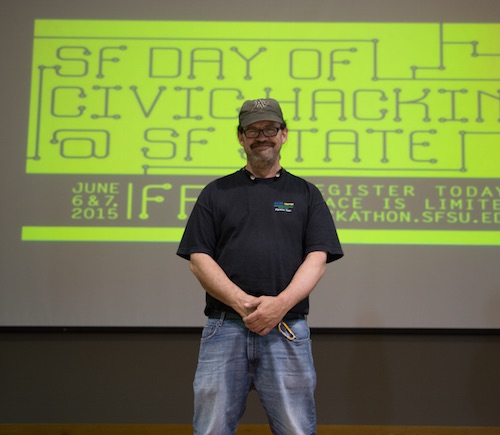 Project: The Bureaucratic Abyss of Returning to Society
Team: Gary William Hallford
San Francisco Day of Civic Hacking (SFDoCH) at SF State, part of National Day of Civic Hacking, will take place  June  6-7, 2015. The event will bring together citizens, software developers, and entrepreneurs together to collaboratively create, build, and invent new solutions using publicly-released data, code and technology to improve our communities and the governments that serve them.  Anyone can participate; you don't have to be an expert in technology, you just have to care about your neighborhood and community.
Keynote Speaker
Civic Innovation Advisor, Innovation Economy Strategist, Entrepreneur Ecosystem Builder & Catalyst
Judging
Guidelines for Judging
Impact

Accessibility

Complexity

Sustainability

Product

Presentation
Meet the Judges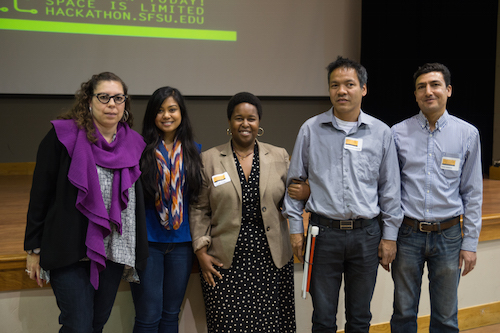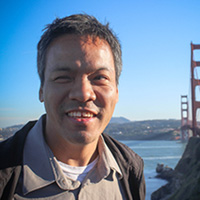 Jennison Asuncion has been working on digital accessibility for over ten years. A Toronto native, He moved to the Bay Area in November 2013 to take up leading LinkedIn's digital accessibility efforts. Outside of his work at LinkedIn, Jennison began the Bay Area Accessibility and Inclusive Design Meetup group in January 2014, has organized Accessibility Camp Bay Area for the last two years, and is Co-Founder of Global Accessibility Awareness Day that is now in its fourth year.
Carla Mays
Civic Innovation Advisor, Innovation Economy Strategist, Entrepreneur Ecosystem Builder & Catalyst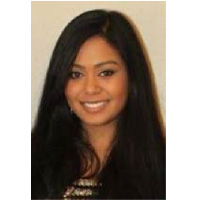 Chandni Kazi works as a Data Analyst for Great Place to Work, a corporate social responsibility company. She has a Masters in Biostatistics from Loma Linda University and a Bachelors in Molecular and Cell Biology at the University of California, Berkeley. Chandni is passionate about using evidence-based research for social justice advocacy, especially in regards to reducing the digital divide and decreasing the number of episodes of youth homelessness. She has been invited to the Clinton Global Initiatives University conference twice to present her innovative social action research and currently volunteers with Code for America Brigade in San Francisco. 
Maria Navarro,
Enterprise Information Management Consultant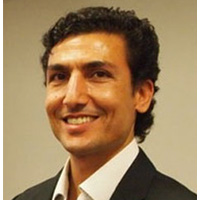 Hamid Mahmoodi received the B.S. degree in electrical engineering from Iran University of Science and Technology, Tehran, Iran, in 1998 and the M.S. degree in electrical and computer engineering from the University of Tehran, Iran, in 2000. He received his Ph.D. degree in electrical and computer engineering from Purdue University, West Lafayette, IN, in 2005. He is currently an associate professor of electrical and computer engineering in the School of Engineering at San Francisco State University. His research interests include low-power, reliable, and high-performance circuit design for nano-scale technologies. He has many publications in journals and conferences and 5 U.S. patents. He was a recipient of the 2008 SRC Inventor Recognition Award, the 2006 IEEE Circuits and Systems Society VLSI Transactions Best Paper Award, 2005 SRC Technical Excellence Award, and the Best Paper Award of the 2004 International Conference on Computer Design. He is a technical program committee member of International Symposium on Low Power Electronics Design and International Symposium on Quality Electronics Design.
National Challenges
WorldWise Schools Redesign: Create a tool to connect Peace Corps Volunteers (PCVs) serving abroad, and Returned PCVs with interested educators and classrooms back in the US.
Health Impacts of Climate: Develop ways to turn available climate change data into useful and accessible information for citizens in order to help them better adapt to and manage climate variability.
Open Data City Sustainability Solutions: Create an application leveraging the U.S. Census Bureau's City SDK that addresses an integrated sustainability problem in your city.
Tobacco Use Data Interactive Visualizations: Bringing Data to Life Centers for Disease Control and Prevention (CDC) seeks to employ interactive maps, interactive timelines…
International Travel Guide: Help keep Peace Corps Volunteers safe. Develop a solution to enable Peace Corps Volunteers…
Owning a Home
Local
Reduce Violence in Our Communities
Resource Building APP for a Non-Profit
Submit Your Challenge
Do you have an idea for a new solutions that can use publicly-released data, code and technology to solve challenges relevant to our neighborhoods, our cities, our states and our country?  Please submit challenges by May 22, 2015.
Theme
Resilience & Equity
Sunday, 12 Noon deadline
Create a basic presentation for the judging with the following elements:
Slide 1: Team Member BIOs and role on team

Slide 2: Project Name

Slide 3: Technology Description and list

Slide 4: Introduce and Describe Project and what problem you are solving

Slide 5-9: Screen Shots and demonstration of Prototype

Slide 10: Your plan for next steps or ideas for implementation.

Code on public repository
Why does all software created at National Day of Civic Hacking have to be open source?
We believe in giving participants the most freedom possible in licensing their work, balanced with the freedom of others to use and adapt technologies to their needs. We require that all projects worked on through the initiative:
1. Are licensed under an Open Source Initiative (OSI) approved license. While you are free to choose any license, we recommend using one listed as "Licenses that are popular and widely used or with strong communities".
2. Have their code posted on a publicly available code repository. GitHub and Google Code are popular choices.
Robert Moulton, Interim Associate Vice President and Chief Information Officer, Information Technology Services
Sameer Verma, Professor, Information Systems Department
Leads
Julio Feliciano , Information Technology Services
Tom Kelleher, College of Business
Elizabeth Kim, Hospitality and Tourism Management student
Members
Michelle Rito Anolin, Information Technology Services
Srikanth Danapal, Information Technology Services
Junying Du, Information Technology Services
David Golden, Information Technology Services
Lin Lee, Information Technology Services
Supakit Kiatrungrit, Information Technology Services
Shawn Whalen, Office of the President
Marketing & Social Media
Sanjit Sengupta, Professor, Marketing, College of Business
Mousa Alharatani, MBA student, College of Business
Charles Yeary,MBA student, College of Business
Design
Joshua Singer, Assistant Professor, Department of Design & Industry
Hien Truong, Student, Department of Design & Industry
Shea Sjoberg, Student, Department of Design & Industry